If you're looking for a delicious and healthy twist on the classic BBQ sandwich, you've come to the right place! We've created a vegan BBQ Tempeh Sandwich that will satisfy all your cravings without the guilt.
In this article, we'll take you through our recipe for BBQ Tempeh Sandwiches step-by-step, with a list of ingredients, instructions, and helpful tips along the way. So, let's get started!
Ingredients:
8 oz. tempeh
1/4 cup BBQ sauce
1/4 cup vegetable broth
1 tbsp olive oil
1 tsp garlic powder
1 tsp onion powder
1/2 tsp smoked paprika
1/4 tsp salt
1/4 tsp black pepper
4 whole wheat buns
4 lettuce leaves
4 slices of tomato
Instructions:
Preheat your oven to 375°F.
Cut the tempeh into thin slices.
In a small bowl, mix together the BBQ sauce, vegetable broth, olive oil, garlic powder, onion powder, smoked paprika, salt, and black pepper.
Dip each slice of tempeh into the BBQ sauce mixture, coating it evenly.
Place the tempeh slices onto a baking sheet lined with parchment paper.
Bake for 20-25 minutes, flipping the tempeh halfway through.
While the tempeh is baking, toast the whole wheat buns.
Once the tempeh is done, assemble the sandwiches with a lettuce leaf, a slice of tomato, and a few slices of tempeh on each bun.
Serve immediately and enjoy your delicious vegan BBQ Tempeh Sandwiches!
Tips:
For extra flavor, marinate the tempeh in the BBQ sauce mixture for a few hours or overnight.
If you don't have vegetable broth, you can use water instead.
If you don't have smoked paprika, regular paprika will work just fine.
Feel free to add additional toppings to your sandwiches, such as avocado or vegan cheese.
Why BBQ Tempeh Sandwiches?
BBQ sandwiches are a classic comfort food that many of us grew up eating. However, traditional BBQ sandwiches are usually made with meat, which can be a problem for those following a plant-based diet or trying to reduce their meat intake.
That's where our BBQ Tempeh Sandwiches come in! Tempeh is a fermented soy product that is high in protein and nutrients. It has a nutty flavor and a chewy texture that makes it the perfect meat substitute in this recipe.
Not only is tempeh a healthy alternative to meat, but it's also environmentally friendly. Producing meat requires a significant amount of resources and generates a large amount of greenhouse gas emissions. Switching to plant-based alternatives like tempeh can help reduce your carbon footprint and contribute to a more sustainable future.
Conclusion: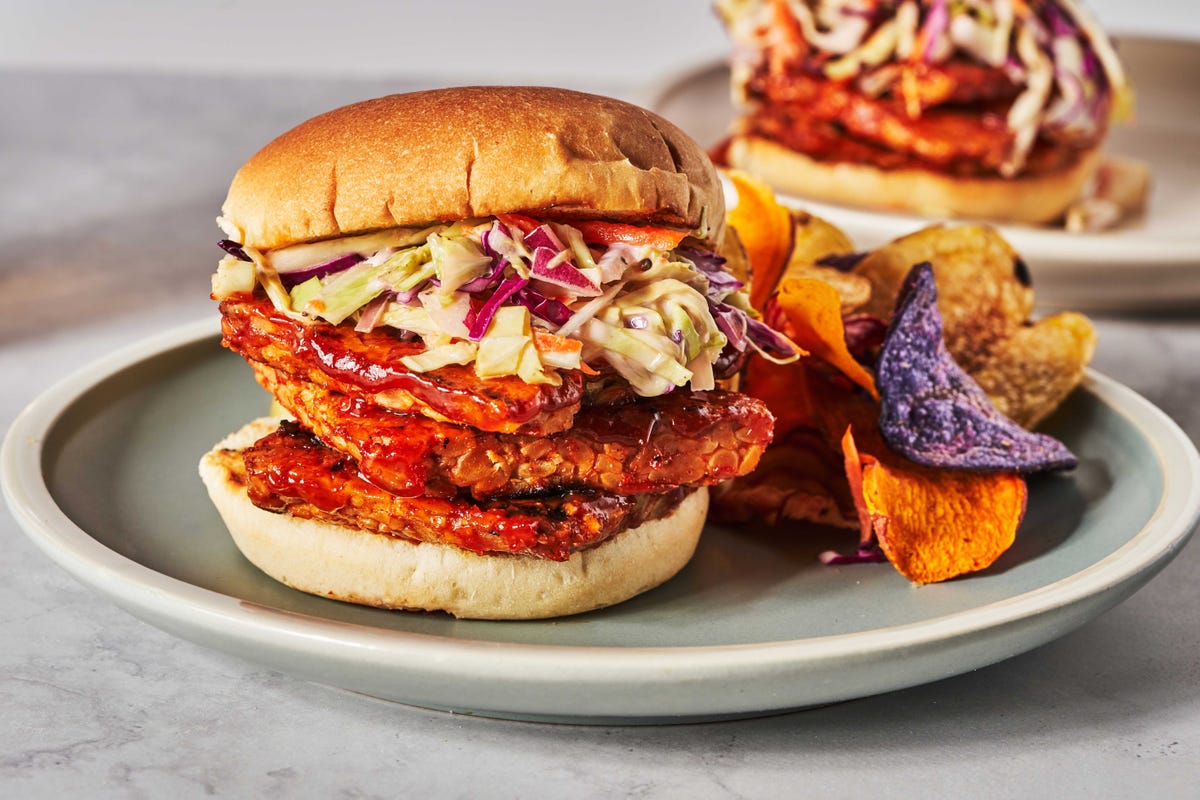 We hope you enjoyed our recipe for BBQ Tempeh Sandwiches and that you'll give it a try! It's a delicious and healthy twist on the classic BBQ sandwich that's perfect for vegans and meat-eaters alike.
By using tempeh instead of meat, you're not only making a healthier choice for yourself, but you're also making a positive impact on the environment. So, the next time you're in the mood for a BBQ sandwich, give our recipe a try and let us know what you think!