Are you looking for a new, exciting vegan recipe to try? Look no further than Chipotle Tofu & Pineapple Skewers!
This recipe is perfect for a summer barbecue or a weeknight dinner. It's quick, easy, and bursting with flavor. Plus, it's a great way to introduce your non-vegan friends and family to the deliciousness of plant-based eating.
Ingredients
For the tofu:
1 block of firm tofu
2 tablespoons of olive oil
2 tablespoons of soy sauce
2 tablespoons of lime juice
2 teaspoons of chipotle powder
1/2 teaspoon of garlic powder
Salt and pepper to taste
For the pineapple:
Instructions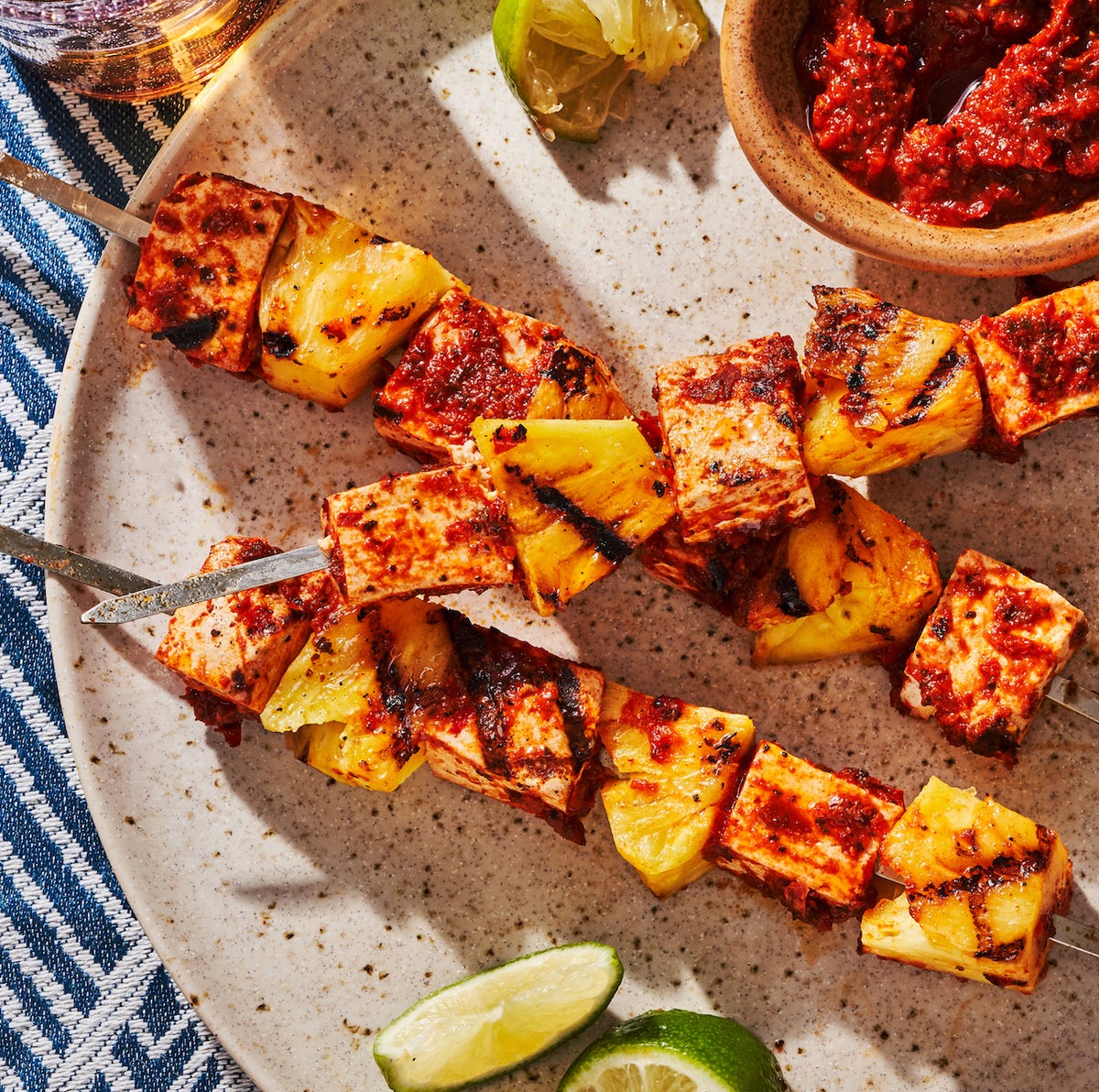 Preheat your grill to medium-high heat.
Drain the tofu and wrap it in paper towels. Press down on the tofu with a heavy object, such as a cast-iron skillet, to remove excess water. Cut the tofu into 1-inch cubes and place in a large bowl.
In a small bowl, whisk together the olive oil, soy sauce, lime juice, chipotle powder, garlic powder, salt, and pepper. Pour the mixture over the tofu and toss to coat evenly.
Cut the pineapple into 1-inch chunks. In a separate bowl, whisk together the olive oil, honey or agave nectar, salt, and pepper. Add the pineapple chunks and toss to coat evenly.
Thread the tofu and pineapple onto skewers, alternating between the two.
Grill the skewers for 3-4 minutes on each side, or until the tofu and pineapple are lightly charred and heated through.
Serve hot and enjoy!
Why You Should Try This Recipe
Vegan-friendly: This recipe is 100% plant-based, making it a great choice for vegans or anyone looking to reduce their meat consumption.
Bursting with flavor: The combination of smoky chipotle and sweet pineapple is a match made in heaven. Plus, the marinade gives the tofu a deliciously tangy kick.
Easy to make: With just a few simple ingredients and a quick cooking time, this recipe is perfect for busy weeknights or last-minute get-togethers.
Perfect for summer: There's nothing better than firing up the grill on a warm summer evening, and these skewers are the perfect addition to any barbecue.
FAQs
Can I use a different type of protein instead of tofu?
Absolutely! This recipe would work well with other types of protein, such as tempeh or seitan. You could also try using mushrooms or eggplant for a veggie twist.
Can I make this recipe ahead of time?
Yes! You can prep the tofu and pineapple ahead of time and keep them in separate containers in the fridge until you're ready to grill. Just make sure to soak your skewers in water for at least 30 minutes before grilling to prevent them from burning.
What should I serve with these skewers?
These skewers are delicious on their own, but you could also serve them with a side salad or some grilled veggies for a complete meal.
Conclusion
If you're looking for a new vegan recipe to try, give Chipotle Tofu & Pineapple Skewers a chance. This dish is bursting with flavor, easy to make, and perfect for summer grilling.