Cupcakes.
Yes, yes, I know… They're the "in" thing for the moment. But let's be honest, Disney has been doing them in their parks for longer than people have been cupcake warring, and they still do it  better than almost anybody out there.
The flavors are decadent, the presentation over-the-top, and the varieties available are seemingly limitless.
One of their signature cupcakes is the Red Velvet Cheesecake Cupcake, and for a good reason. It's unique and delicious and the little cheesecake flavoring sets the whole cupcake off.
While it is time consuming to make, it's not all that complicated, and the results are really, really worth it.
~~~~  °o°  ~~~~
Red Velvet Cheesecake Cupcakes
As is served in Starring Rolls, Hollywood Studios, and EPCOT
Red Velvet Cupcake~ 
  2 1/2 cups all-purpose flour
  1 1/2 cups sugar
  1 teaspoon baking soda
  1 teaspoon salt
  2 tablespoons cocoa powder
  2 eggs
  1 1/2 cups Oil
  1 cup buttermilk
  2 ounces red food coloring
  1 teaspoon white distilled vinegar
  1 teaspoon vanilla extract
Preheat the oven to 350 degrees. In a medium mixing bowl, sift together the flour, sugar, baking soda, salt, and cocoa powder.
In a different, large bowl gently beat together the oil, buttermilk, eggs, food coloring, vinegar, and vanilla. Add the
sifted dry ingredients to the wet and mix until smooth and combined.
Pour into lined cupcake tins until about 2/3 filled. Bake 20-22 minutes or until a toothpick inserted in the center of the cupcake comes out clean. Remove from tins and cool completely before frosting.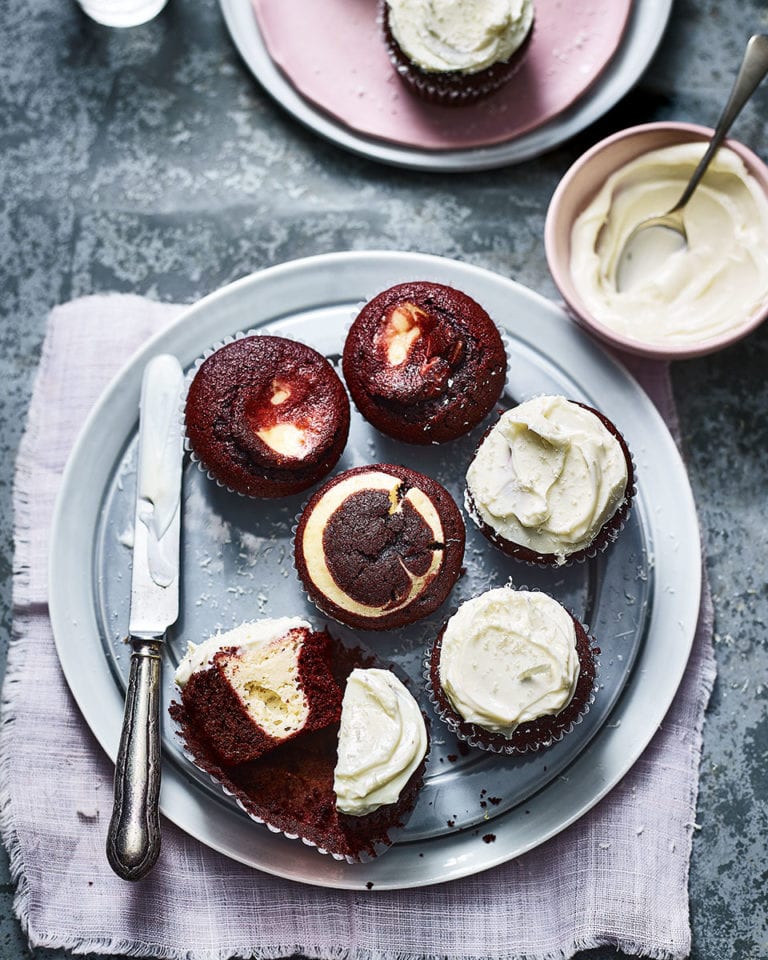 Frosting ~ 
1 pound cream cheese
3/4 cups sugar
1 1/2 teaspoons lemon juice
1 teaspoon vanilla extract
2 egg whites (or 1/2 cup)
Also needed for decoration ~ 
In a mixing bowel, add cream cheese, sugar, lemon juice, vanilla extract, and egg whites. Cream together for 3 minutes. Spread onto a shallow, flat-bottomed, lined baking pan or dish and bake for 45 minutes, or until firm. Allow to cool before frosting. Scrape into mixing bowl and cream slightly.
Using a piping bag or plastic sandwich bag with a corner cut, pipe cream cheese using a small circular motion in the center of the cupcake. In a separate piping or plastic bag, pipe premade white frosting around the edge of the cupcake, around the cheesecake filling. Roll in toffee bits.